Good Monday everyone. We are in for a rollercoaster week, so buckle up. Severe weather chances and snow chances in the same week. Sounds typical for a battle zone between two seasons.
Severe weather is in the borderline 'likely' category for our region in Kentucky. SPC has a nice chunk of real estate in the Enhanced category (3/5). My analog analyses at two days out already has our region in a borderline likely category at 7.2. Here is my chart....
Score of 3.0 - 4.9 = widespread severe weather likely
Score of 5.0 - 6.9 = regional severe weather likely
Score of 7.0 - 7.9 = scattered severe weather reports
Score of 8.0 - 8.9 = isolated severe weather reports
Score of 9.0 - 9.9 = marginal risk for severe weather
Although my score does not represent fair justice to the storm system that will affect our region, it is 2 days out. The trend has been intensifying the chances for severe weather regionally. I say keep an eye to the sky and an ear to your favorite media source for further updates on this impending/imminent/potential severe weather outbreak.
So far, I think we are up to 13 confirmed tornadoes in Kentucky. That may increase after tomorrow night. We'll see.
Speaking of tornadoes, on this date in 2006 from the NWS Paducah...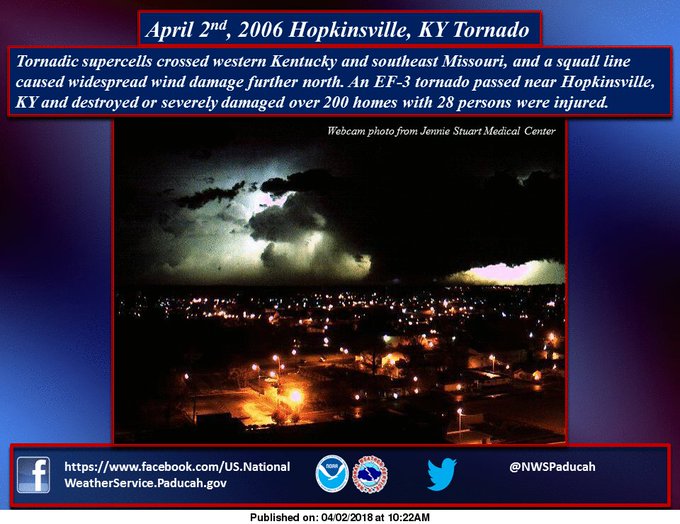 March came in at below normal for the month in Louisville. In fact, several locations in the state had a warmer February than March. There were a total of 54 out of 70 Mesonet sites with a warmer February versus March in addition to the ones I listed in my previous post.
Black Mountain in Harlan county is our precipitation leader for the year at 25.42" while McCreary and Muhlenberg counties come in at 22.11" and 20.30" respectively.
I am going to continue to beat this drum that Black Mountain needs some sort of snow sensor to 'measure' new snowfall and snow depth. I honestly believe Kentucky can break the all-time snow depth record of 31" set in LaGrange (Oldham county). If there would have been a sensor atop Black Mountain back in 1977/1978 when LaGrange registered the state record, I can assure you LaGrange would not be the record holder.
Speaking of snowfall and snow depth, did you know it is still possible to register snowfall in the summer months?
Yes, hail reports are lumped in with any frozen precipitation like snow and ice pellets. Look at these examples...
June 5 and 10, 1951 - hail accumulation of 1" each date at Lubbock TX; 2" of the 7.4" seasonal snowfall was hail accumulation.
June 3, 1959 - hail accumulation of up to 18" occurred in Seldon KS; the small hail pounded the area for 85 minutes; the damage would be the result of not the size but the weight of hail that collapsed several flat-roof structures.
This April 16 will mark the 20th anniversary of Bowling Green's hail storm that devastated the area with baseball-size hail. The regional airport which suffered damage to at least 11 planes recorded a trace of snowfall for that date because the hail accumulation briefly and nearly covered the ground.
Keep safe everyone and have a good week.
MS